Molly and Oliver
On August 18th, 2018, I attended your "Clear the Shelters" event, looking to adopt a cat. I ended up adopting two very small kittens. Molly is the short-haired with the white spot on her chest, Ollie is long-haired.
I just wanted to let you know they are happy and healthy and full of mischief. They make me laugh every day and are wonderful companions. Molly was a bit shy the first couple of days, but by day four she was coming to me and purring. Ollie has ALWAYS been sure of his welcome whenever he jumps up on my lap. He knows he has the right to cuddle any time he wants.
I can't remember their foster mom's name, but could you please let her know how well they are doing? She did a wonderful job with them! Let her know they are loved VERY much!
Thank you for the wonderful work you do.
Sincerely,
Karen R.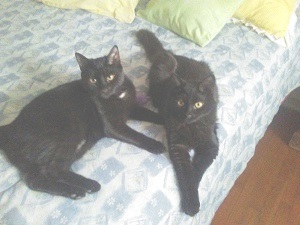 ---
Submit your own Happy Tail story and pictures.
Date Added
February 13, 2019