What We Do
Pet Food Pantry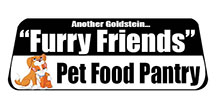 Mohawk Hudson Humane Society wants to help keep pets with the families who love them. We realize that anyone can fall on hard times. Through our Furry Friends Pet Food Pantry, sponsored by Goldstein Auto Group, we provide cat and dog food and limited pet supplies to anyone needing help caring for their animals. No pet should go hungry.
Please read our COVID-19 Update Page for the current status of the Pet Food Pantry program.
There are two Pet Food Pantry locations:
Mohawk Hudson Humane Society
3 Oakland Avenue, Menands
Every day except Wednesday, noon - 6pm

Temporarily closed:
Saratoga Spay/Neuter Clinic
4255 Route 50, Saratoga
Monday-Thursday, 9 am-noon

Other Locations
When we have enough to share, we provide food to the following organizations. Please contact us about the possibility of having us provide food for your program as well. Email Nikki or call 518.434.8128 ext 227.
Bethlehem Food Pantry
445 Delaware Avenue, Delmar
518.439.4955
Website >
Center City Food Pantry
315 Sheridan Avenue, Albany
518.465.8262
Website >
CONSERNS-U
50 South Herrick Street, Rensselaer
518.463.8571
Website >
Damien Center Albany
646 State Street, Albany
518.449.7119
Website >
Hope 7 Food Pantry
520 Pawling Avenue, Troy
518.272.1547
Website >
Mechanicville Area Community Services Center
6 South Main Street, Mechanicville
518.664.8322
Website >
Unity House
2431 6th Avenue, Troy
518.274.2607
Website >

Our Partnerships
We are proud to partner with and support these local agencies and programs