Save The Date!
Oktopurrfest
Oktopurrfest will return on Thursday, October 8th, 2020. It is a one-of-a-kind, festive, feline-centric fall celebration, complete with all the fun and tradition of Oktoberfest. Event features the naming of the Feline Festmeister.
Thanks for supporting Oktopurrfest 2019!
We had over 50 nominations for Feline Festmeister, but it all came down to
one with irresistible cheeks. Piezon!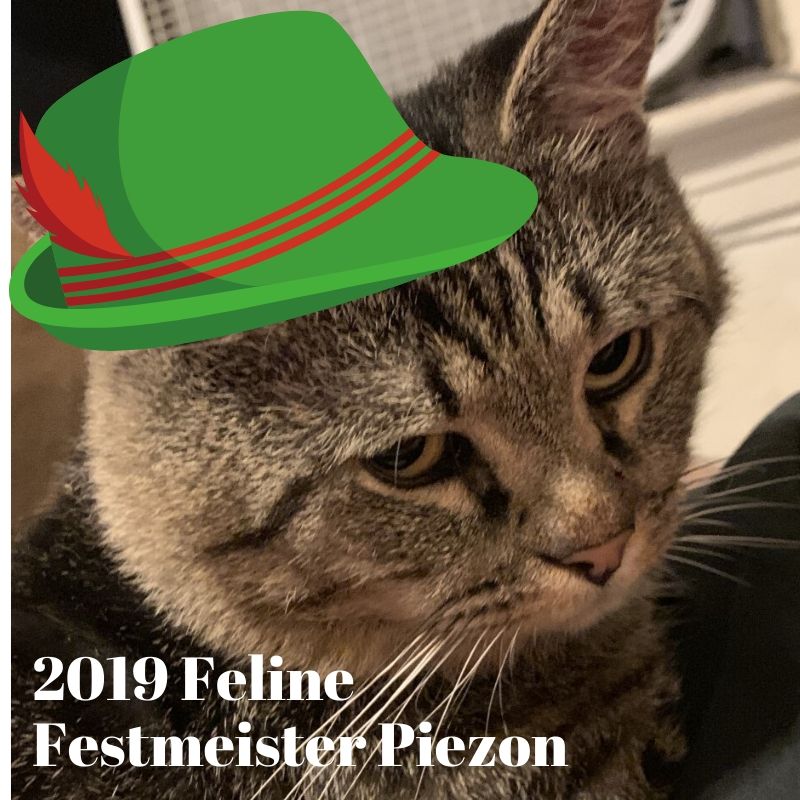 Music by Rick Bedrosian
Rick has been a full-time, professional musician for more than 50 years. Besides performing as a solo artist (acoustic guitar and vocals), Rick is currently the leader of two renowned bands – the award winning Celtic Rock group, Hair of the Dog, and the wildly popular Beatlemania band, Hey Jude. Rick is also the creator and host of a brand new food, music and travel television series called "I Could Eat." Expect to have a lot of fun singing along to popular music from the '50s and '60s, as well as a few well-known Irish songs, Beatles classics and whole lot more. He loves animals, especially cats!
Learn more about Rick: Website YouTube

2019 Feline Festmeister Nominations Are Now Closed
The festmeister, or "festival master," is the leader of Oktoberfest and presides over the celebration. However, the Oktopurrfest Feline Festmeister, generally not tolerant of large social gatherings, music and merriment, presides from his or her home base. This, however, does not diminish the importance or significance of the role. Clearly, someone must be in charge.
The first Oktopurrfest Festmeister was Brian Williams, appointed in 2016. Since that time, Mr. Williams has held the position with dignity and authority. But on October 23, 2019, the hat will be passed on.
We are seeking nominations of a new festival leader.
Requirements
Must be feline.

Feline Festmeister is a gender-neutral term. Male, female, spayed and neutered cats are eligible.

To enter, complete form below and submit a good photo of the candidate. Provide a compelling rationale, in one or two sentences, of why the candidate is worthy of the title.

All photos will be shared at the event.

The Festmeister will be named at Oktopurrfest and is not required to attend.

Entry deadline is Sunday, October 20.