dedicate your gift and send a personalized e-card
Struggling to find a meaningful gift for that person or pet who already has everything? Now you can dedicate a donation to MHHS in your loved one's honor, and craft a personal message to let them (or their family) know that you've made a gift to the animals.
Here is a sample of the e-card that will be sent to your honoree when your donation is completed. Over 40 designs are available for holidays, birthdays, memorials and lots more! You get to select the image, personalize the message, and decide whether or not to include the amount of your donation.
If you would prefer a mailed card, which may take up to 3 weeks to arrive, please visit the donate >> page. Mailed cards have MHHS' logo on the front, and we are not able to offer design or personalization options. For questions, please email donations@mohawkhumane.org >>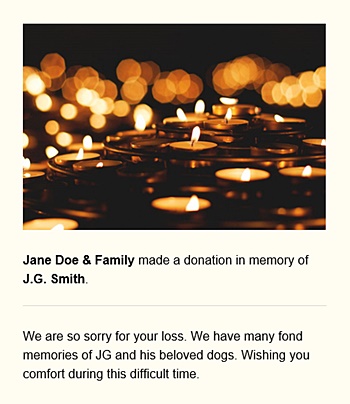 THANK YOU FOR CARING ABOUT THE ANIMALS!
MHHS is a 501(c)(3) not-for-profit organization. Our tax ID is 14-1338459. Your contributions are tax-deductible to the extent allowed by law.