Hazelnut
Now named Hazelnut (Hazel for short), she had a great first night! OMG, is she a snuggler. You were so right when you said she is a people-dog and not a dog-dog. We started out going for a ride to the pet supply store (definitely not her first ride in a car - she's a natural). She picked out some treats and toys, and we picked out some wet food to mix into her kibble, and off we went to her new fur-ever home! She did a great job sniffing out everything she could, and aside from one bathroom accident (no big deal - it was expected), she had a banner night.
She is a huge fan of snuggling on the couch, snuggling in bed, getting treats for doing good things, drinking huge amounts of water, going outside to sniff, and more snuggling. She got so tired - ended up passed out on Doug's warm belly with a smile on her face. She talked us into letting her sleep in bed with us and had a good night - slept well, no problems, didn't hog the bed. This morning she went right outside, did her business, and came upstairs to meet her brothers and join us for coffee!
The meet and greet was completely without incident. Our dogs are pretty low-key. Toby (our old black lab who is basically a manatee with legs) gave her a good sniff and once over with both of their tails wagging. He came up to us while we were on the couch and Hazel got a little protective and let out a small growl, but her tail was still wagging and Toby just walked away in search of a sunbeam to rest in. Buddy, Grandma's terrier mix, thinks Hazel is as cute as a button and seems happy to have a friend in the house who is closer to his size.
The surprise came when our son Scott come out for breakfast! Hazel was REALLY excited to see him - gave some little yips and couldn't stop wiggling until he gave her some love.
She is smiling a lot, and loves to be loved. I wanted to thank you for taking such good care of her, and keeping her safe and healthy until she could come home with us. More updates to come.
Laura and Doug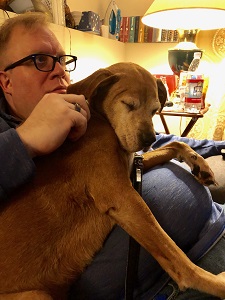 ---
Submit your own Happy Tail story and pictures.
Date Added
February 13, 2019