Abner and JuneBug
Update on Abner and JuneBug!
Abner and JuneBug had a long stay at the Humane Society over two years ago because they are both very unique and had a hard time finding the right fit. But, luckily, my boyfriend and I were the right fit for them! We are grateful to call these two cuddly, goofy troublemakers our family.
Saturday morning is cuddle time on the loveseat! They never care how little room they have, we somehow manage to fit. Hard to believe they will be four in April and May. As always, thank you to the Mohawk Humane Society for everything they do!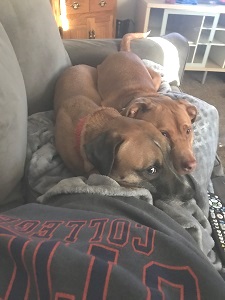 ---
Submit your own Happy Tail story and pictures.
Date Added
February 13, 2019