Cashmere
Hi, my name is Cashmere. I was adopted from MHHS on January 8, 2016! My mommy and daddy decided to keep my name Cashmere. I also answer to Cash or Cashy. I now have a boxer sister named Chloe as my best friend for life. Chloe and I are inseparable! I also have a mommy and daddy that love me. When I first got to my furever home I wasn't a fan of attention or love, but as the months passed I learned to trust and love again, and now I can't get enough. If someone stops petting me I will hit their hand with my paw to remind them I'm still here and need to be petted! Since coming to my furever home I have gained 30 pounds and weigh a whopping 90 pounds! I will run circles to remind you it's time to eat to make sure you don't forget. When I first came to my parents' house I wouldn't go on the couches or bed - I'd rather sleep in my crate. Well, that has all changed now! I now climb on the furniture for naps or to go to bed at night. I show my parents how happy I am every day by showing them my smile. I'm so glad this family adopted me!
Cash is beyond happy and couldn't have been a better addition to our family! She is loving her second chance at life just as much as we are! Thank you, MHHS, for giving Cash and us this chance!
Love,
Phil, Heather, Cashmere and Chloe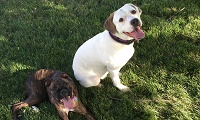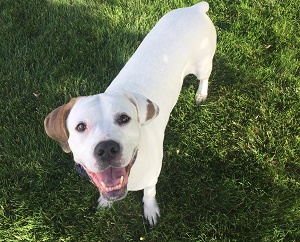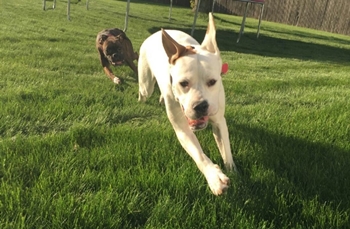 ---
Submit your own Happy Tail story and pictures.
Date Added
December 22, 2016