Community Education
Seminar Series
Promoting humane attitudes towards people, animals and the environment.
Mohawk Hudson Humane Society is excited to offer education programs once a month to the public. These talks are open to all ages, but are focused on adults. Check back regularly for updates.
December: Safe Toy Workshop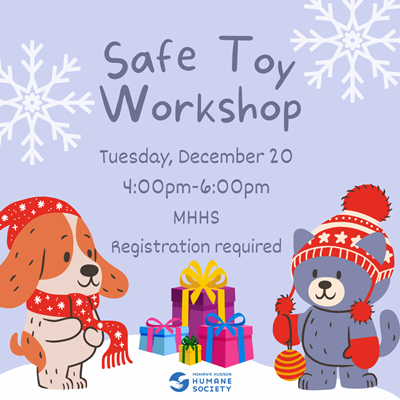 Safe Toy Workshop
Tuesday, December 20, 4-6 pm
In the spirit of the holiday season MHHS is offering a Safe Toy Workshop! Come join us anytime between 4-6 pm and make some toys for the pets in your life! Registration is required and will be capped at 50 individuals. A registration fee is required, with the fee dependent on the DIY craft.  Fees will be paid upon arrival to the event. All needed supplies will be provided.
Recommended for ages 8 and over
Snufflemat for dogs: $10 per mat
Cat scratcher: $5 per scratcher
Octopus dog toy: $5 per toy