Community Education
Seminar Series
Promoting humane attitudes towards people, animals and the environment.
Mohawk Hudson Humane Society is excited to offer education programs once a month to the public. These talks are open to all ages, but are focused on adults. Check back regularly for updates.
August: Basic Pet First Aid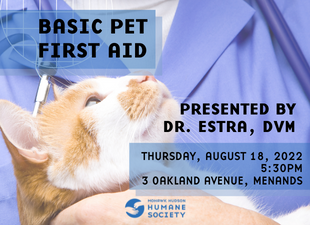 Basic Pet First Aid
Thursday, August 18
5:30-7:00 pm
Join us for this in-person event at the Lisa Mitzen Animal Care Center as we cover basic pet first aid with Tara Estra, DVM.
This event will be held in person at the Mohawk Hudson Humane Society, 3 Oakland Avenue, Menands, in the second-floor Community Room. Suggested donation is $5.
Registration is required to attend. The event will be capped at 40 individuals.