Minew
In September 2018, 3 years after our lovely older cat of 17 years passed away, we decided it was time to bring a new member into our household. Thus, 20 years after adopting our first, we returned to the Hudson Mohawk Humane Society.
Here we met numerous beautiful and interesting cats, but our heart was taken with Kiki, deemed one of the shyest young cats on the premises. Though we found her hiding under a cat tower, she came out to us and purred when we offered our hands to her. Upon bringing her home, she revealed herself as a truly playful, affectionate and spunky companion. She loves to play tag, creeping up on us like a jungle cat, playing hide and seek, and always with soft paws. And, to top it off, she's a fantastic mouser too! Her new name is Minew (a la the French "minou") and we LOVE her.
Each night she wanders from bed to bed visiting each member of the family and purring at our feet. We are incredibly happy to have her in our lives. We hope any who read this will take a chance on a "shy" cat. It's amazing what they might reveal with a little love.
Sincerely,
The Johnsons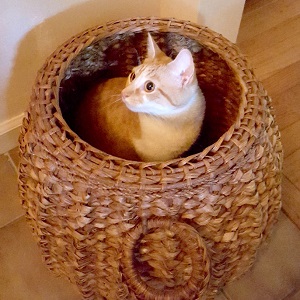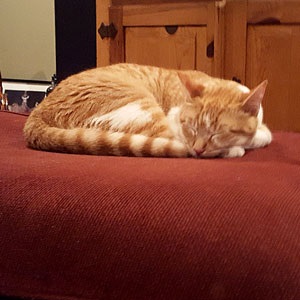 ---
Submit your own Happy Tail story and pictures.
Date Added
February 13, 2019