Melville and Midnight
Hi, I'm Melville and I was adopted by my loving family recently. I like to hang out in the bedroom, but I do come out some days. I am still getting use to the big house. My partner in crime Midnight (Greta) was also adopted from MHHS. We are still getting used to each other. My family loves everything about me. I am so loving and just like to be petted all the time. They like to call me Mr. Mel and Old Boy -- I am 11, after all. I don't mind what they call me because I love them and they love me. I am glad to have my forever humans in my forever home.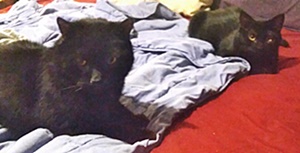 ---
Submit your own Happy Tail story and pictures.
Date Added
March 11, 2019