Finnegan
I wanted to send an update on my adoption of Fishy (now Finnegan). I adopted him in early September and he's been my snuggle buddy ever since. I came into Mohawk Humane Society looking for a cuddly cat to adopt. When I found out that Finnegan had his leg amputated the same day that I got a surgery, and that I was adopting him exactly a month after our surgeries, it was a done deal for me. He was the only one I could possibly adopt.
He is such a snuggle-bug and loves to be touching you at all times. In fact, if you stop petting him, he'll give you a distinctly offended look as though there could not possibly be ANYTHING more important than snuggling him! Although he's a bit of an old man (8 or 9 years old), he does get playful every so often and will hop into my coffee table to wiggle around and peer out through the glass doors. He also is an excellent knitting and cooking helper, never tangling the yarn or getting under my feet. He's a bit of a weirdo because no matter how many squishy beds I buy for him, or soft sofas there are, he will always prefer to sleep in or on a cardboard box. He really is a joyful little spirit to have in my home, always lightening my mood and giving me lots of love. I am so happy to have him in my life!
Thank you for helping me to adopt Finn!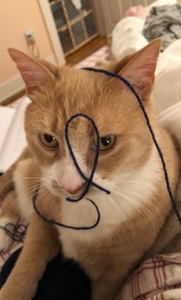 ---
Submit your own Happy Tail story and pictures.
Date Added
March 11, 2019