Contest has ended. Our thanks to all who participated.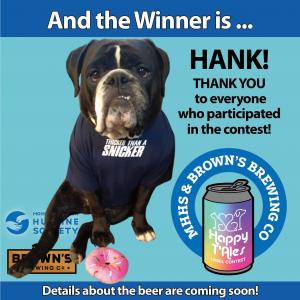 See our Oktopurrfest page for details on the event and how to purchase beer with Hank's face on it!
 
Our Happy T'Ales Label Contest can make YOUR pet the face of a Brown's brew! One pet's adorable face will shine on a beer label specially designed for a Brown's Brewing Company beer!
 
Here's how it works:
Enter your pet between August 18 to September 9, 2021. ALL pets are eligible.
Entry is $10 per pet, votes are $1 each. (Voting minimum is $5.)
The pet with the most votes will be featured on the label in October!
Just submit a good photo of your pet. It's NOT a photo contest, but we need a good face shot to create the label. It all comes down to the voting!
ENTRY BEGINS AT 10:00 AM EDT ON WEDNESDAY, AUGUST 18!