Teddy
I adopted the cat in these pictures in February 2018. His name was Homer, but I changed it to Teddy because he is such a big Teddy Bear. He is six years old and when I got him he was a "manager cat" because he apparently got overstimulated at his foster home. Also, we had no idea how he did with dogs. But I fell in love with him because he and all of his 14 pounds of body weight just laid right on my lap during the cat visit. Well, from the moment I brought him home, he and my nine-year-old English Mastiff have bonded tremendously and don't leave each other's side.
Teddy is a loud purrer; he is constantly purring. He isn't interested in toys but loves to cuddle, be held and, of course, eat. He has never gotten overstimulated and he is the sweetest thing ever. He is the PERFECT fit for my little family and I couldn't be happier. THANK YOU, MHHS!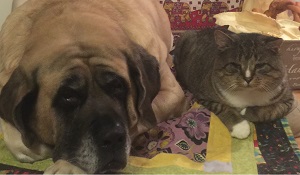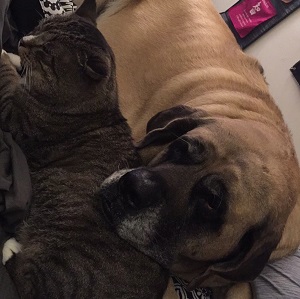 ---
Submit your own Happy Tail story and pictures.