Stryker
Just wanted to share an update on Stryker, formerly Tito of the Jackson Five litter! Stryker is a perfect addition to our family. He loves to run and play with his big dog sister Iris, but will also snuggle with you on the couch all day if it's a rainy day. He has the sweetest heart, but also the most playful spirit.
We named him Stryker because he has the most striking features with his very thoughtful eyebrows and white stripe down his nose. I cannot imagine our lives without him! Thank you MHHS for letting us be his forever family!
Rebecca & Chris Cupp (and Iris & Stryker)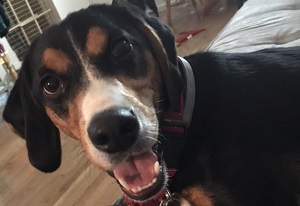 ---
Submit your own Happy Tail story and pictures.
Date Added
October 29, 2018