Sir Monty Montague
We met Monty on October 21, 2016 and immediately fell in love with him and his goofy personality. We wanted to take him home that night, but had to wait for vet clearance, which came on the 24th. I have never witnessed an 87-pound dog hop or leap from a standing position before. I have tried to capture a picture -- no luck yet, but I will one of these days. He is such a character! We laugh often and cannot help but smile just looking at him.
We cannot thank MHHS enough. We truly love our Sir Monty Montague. He has settled in nicely, although his cat brothers are still a mystery to him, as he tends to avoid them. Then his curiosity gets the better of him and he seeks them out only to run the other way. Yup, Monty is actually more afraid of them than they are of him!
Sincerely, Robin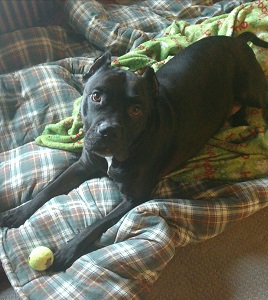 ---
Submit your own Happy Tail story and pictures.
Date Added
December 22, 2016