Sheehan
Kristoff is now Sheehan, a Celtic name meaning peaceful, which fits him well. After months of being in a cage, his new freedom was a joy to behold. He is slimming down quickly with his activity and having more things to do besides eat and sleep.
It wasn't long before my kitten Isaiah was on to him and was wild with excitement and curiosity. The growling and hisses have calmed down to Sheehan teaching boundaries and manners to a very energetic and feisty kitten, which is exactly what I had hoped for. Sheehan is gentle and firm with Isaiah, and yet also plays with him, without getting snarled in a feline ball of teeth and nails. As a welcomed side effect, because Sheehan is not interested in going outside, Isaiah is wanting to spend more time indoors. Everything is working out perfectly. Thank you for your patient help in selecting a companion for my kitten, and for me.
Sincerely, Loren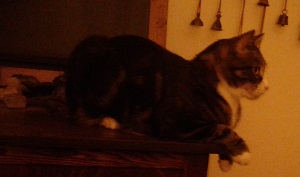 ---
Submit your own Happy Tail story and pictures.
Date Added
October 29, 2018