Sadie
I remember the first time I saw Butterscotch, now Sadie. She was laying in her cage and I recognized her right away from the website. Honestly, it wasn't even my plan to get her. I went over to her kennel and took one of the treats from the cup on her door and stuck my hand through the kennel. She gave me the saddest look and didn't even get up. At the time I got her, I was going through a really hard time and I was really sad. I saw her and I knew how she felt, and knew I wanted to show her a life out of a kennel. She was two years old. My mom told me to come home with a dog that was at least four. They took her out and she was so excited. They walked her into the fenced-in area and she ran around and ran up to me and my father, so happy. I looked at my dad and told him she was my dog. He asked if I would rather have the other dog we were looking at that he said was way cuter. I said no.
That day I went home excited. I looked up names on the internet and I found Sadie. In Hebrew, Sadie means princess and that's what she was going to be: my princess. A week later I went to get her and my mom found out about her age and wasn't too happy. They gave me the leash and I wanted to prove to my mom I could handle her. So we walked out of the shelter and to my aunt's car and obviously Sadie had never been in a car before and slipped right out of her collar and ran down the parking lot. That was just the start of her antics. My mom says we should've named her Marley, after Marley and Me.
Now it is a year later. Sadie sleeps in my room every night and loves going on walks and messing with our cat Froggy. Simba, our senior dog, has taken on the big brother role. Sadie is a diva and will vocalize when she wants something. Thank you so much for Sadie. I am forever grateful for meeting her.
Sincerely,
Jolene and Sadie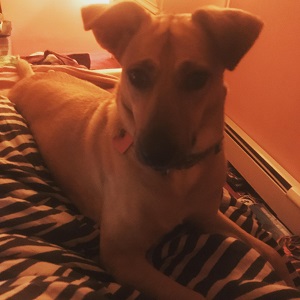 ---
Submit your own Happy Tail story and pictures.