Sabrina
My wife and I came to visit the shelter a few years ago, just looking to visit with some of your current residents at the time. I do admit we were hoping to catch a glimpse of the beautiful English bulldog mix named Sabrina! She wasn't with the rest of the dogs when we went to visit, so we decided to ask about her at the front desk. Before we could even finish our inquiry, who else comes barreling out of the side but beautiful Brina! She immediately came to me and cuddled right up to us (something that hasn't changed to this day). Needless to say, we feel in love instantly.
When we first welcomed Sabrina to our family she had a pretty serious case of demadex, but she (as well as us) was up to the challenge of getting as happy and healthy as we all know she could be. After a couple of months of getting sloppy with ivermectin drops and even sloppier bath times, our little southern belle was as happy and healthy as could be!
We kept the name Sabrina because she responded to it so well, but she is also affectionately known to us as Big Mama! We'd like to thank everyone at the shelter for all their love and hard work, and we wanted to let everyone at Mohawk Hudson know what a great addition Sabrina has been.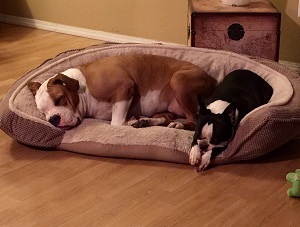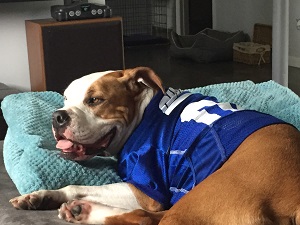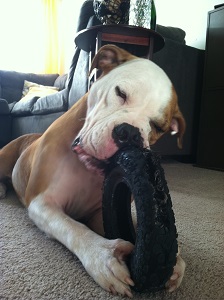 ---
Submit your own Happy Tail story and pictures.
Date Added
December 20, 2016