Princess and Sissy
I am writing to thank you from the bottom of my heart for my two precious babies that I adopted on 11/19/05, Princess and Sissy. That same week prior to adopting my girls I had lost my cat and 9 year companion, Alli. The loss was devastating and unexpected. The emotional loss felt losing a pet and having to make such a difficult decision was the hardest decision I've ever had to make in my life. I thought time would heal my wounds, but the fact was, my house was not a home without having an animal around. I had gone to the shelter earlier in the week to see what they had available, however the timing was not right, and my heart was not yet in the right place. I reluctantly handed a kitty back and told the staff I needed time to think about making such a commitment at that point in time. They commended my decision. It was at that point in time I realized that not only do you want to find homes for these animals, but you're looking for loving and suitable homes for them. That did my heart good to hear that.
Later that week on Saturday after having traveled to all of the adoption clinics in the Capital District, my last stop was PetSmart in Latham Farms. That is where I met Sissy and Princess. I absolutely fell in love with these girls the moment I saw them. I never expected to walk out with two!! The timing was right, and so was my heart. I bonded with my girls instantly and felt as though they had done the same. I was able to meet their foster mother, Eileen Rogers who was extremely knowledgeable and helpful during the process as well as after I took them home.
I want to thank all of the staff who were at PetSmart at your adoption clinic on that day. Princess, Sissy and I have been in love ever since !!! They are an absolute riot together!! They love each other, sleep together, protect one another, clean each other and play together. I honestly feel like these girls were born just for me and have made me the proudest Mom. Thank you Eileen for raising such wonderful kittens!!
Debbie Angerami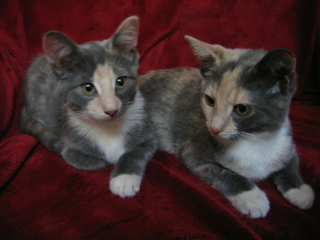 Date Added
February 26, 2006