Pollyanna
My first foster dog was an elderly Pekinese named Pollyanna. She was both deaf and blind but very trusting and loving. She bonded with my dogs and cats and made herself right at home. I figured she'd never be adopted, but a loving woman from Connecticut saw her on Petfinder and adopted her as her own.
Here's a happy note from Pollyanna's new mom:
"Pollyanna says hi to you! She is doing fine here... she's a smart little cookie, but I guess that's how she's gotten along in life so well. And, before you ask, she still sleeps with her tongue hanging out! teehee... tooooooo funnnnnnneeeeeee.
She smells sooooooooo much better since her teeth were taken care of and is eating just fine... she still lets me know where I have an occasional dust bunny behind things, because she will come out wearing it... :)"
~ Bill (an MHHS Volunteer and foster dad)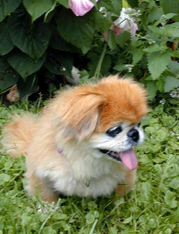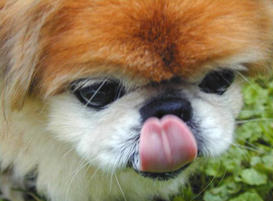 Date Added
December 18, 2005