The Old Man and Little Girl
My husband and I adopted Kit and Dahlia (now known as "The Old Man" and "Little Girl") on 9/24 at your adoption event after recently losing our 13-year-old cat. It was very hard to leave with only two cats and not all of them, but Kit and Dahlia chose us instead of the other way around. Although the ride home was a little scary for them, Kit was sleeping on our bed 10 minutes after we arrived, and claimed the house as his. Dahlia took an hour or so to come out of hiding, but made herself right at home on my husband's lap. They get along really well and I think they enjoy each other's companionship as much as ours. They are both SO sweet and have their own funny personalities. We are so glad they are happy in their new home - we are certainly happy to have them there!
And I just wanted to say that it was so nice to see the caring and compassion from your staff for all of the animals there. They were eager to tell you about each cat and you could tell that they spoil every one of them! Thank you for making the adoption such a nice experience.
Ed & Adelia B.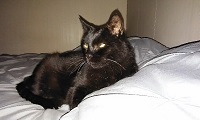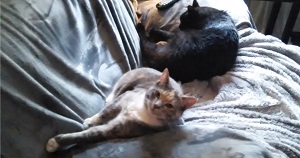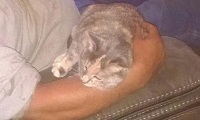 ---
Submit your own Happy Tail story and pictures.
Date Added
December 22, 2016