Morgan
When we first met Morgan (whom we lovingly call Mo/Momo) he was all alone in a big room, hiding in his carrier with the cone of shame. His eyes were crusty and covered in goop from an eye-lift surgery he had not too long ago. He looked like a right old mess, but my husband wanted to meet him anyway. He didn't come out of the carrier, and only gave us the weakest of sniffs when we put our hands out for him. We told him we would be back. 
We visited again a few days later, to see if he was in a better mood to receive guests. He wasn't. We told him we would be back. 
On our final visit, we knew we were going to adopt him whether he wanted to show us who he was or not. We had grown attached to this little fluff boy, and knew that with time he would come out of his shell. The sutures over his eyes had just been removed, and he was clear to be adopted. We brought him home that night. 
The first week in his new house, he stayed under the bed in our guest room which we lovingly referred to as his "penthouse suite." We kept him closed away in his own room away from our other cats, and he seemed perfectly OK with that. 
It took a week for him to be comfortable enough with us to come out and eat if we were in the room, but would run and hide the second we made any sudden movements. 
Fast forward a few more weeks and he is now snuggling with us, purring up a storm, and drooling all over the place. He has taken a liking to our older female Siamese kitty and will chase her around "chirping" at her to show his affection. 
We have never met a more loving, talkative, drool-y cat. We are so, so glad we took a chance on him, and that he took a chance on us. There is no question he is loving his life with his new siblings and "pawrents." And we love him just as much.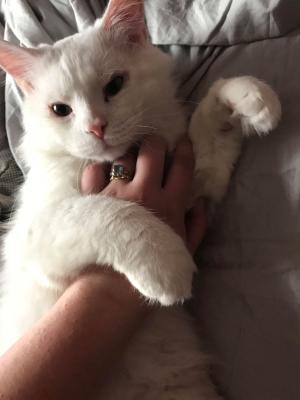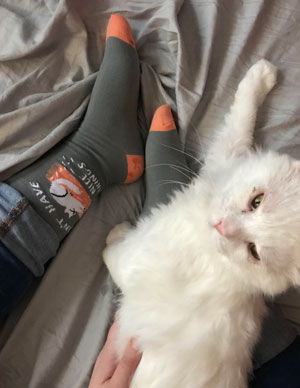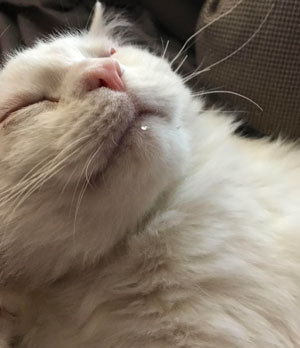 Thank you for all you do!
Krystal & Joe
---
Submit your own Happy Tail story and pictures.
Date Added
April 23, 2019