Moo
I just wanted to say thank you to the Mohawk Hudson Humane Society for giving us our baby Moo! She has been the light of our life since we adopted her in April 2019. I remember seeing her on the website and just knowing that she was our baby. The first time I met her she immediately jumped in my arms and gave me a kiss on the hand. My boyfriend and I are so happy to have her. She is a funny cat who loves to lounge in her favorite red chair in our kitchen while I'm cooking. Moo is a smart girl who learned how to sit and wait when we feed her. Of course, she also learned how to meow at my boyfriend when it's time to feed her. 
We wouldn't trade her for the world! We are excited to add a sister for her when we stop in to adopt another baby needing a loving home. We have our eye on someone on the website who looks like they'll fit right in with our happy family. If we're lucky enough to adopt them, we will be sending in another Happy Tail.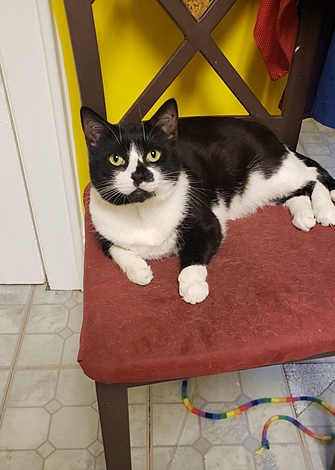 ---
Submit your own Happy Tail story and pictures.
Date Added
February 20, 2020