Milton
2021 was a tough year for our family. We lost 2 fur babies in a matter of 7 months. One after a 3 year battle with Cancer and the other very unexpectedly. My husband and I decided to wait for a while until we made any decisions on adopting another dog. Of course me being the dog lover I am kept checking all of the rescue sites in the area regardless.
I landed on the MHHS website one day in October 2021 and BOOM..I fell in love. I sent an email inquiring about Milton and one other dog in case someone had already scooped Milton up. After lots of communication with the BAE team, I dragged my husband and son down to MHHS and we met Milton. The poor baby had tummy troubles that day and you could see in his face he didn't feel well. We looked at all the other babies there that day but my heart was set on Milton. He was taken off the adoption floor and the website so they could figure our what was going on with his tummy but I was advised that he would be back up on the site as soon as he was medically cleared.
I am not kidding when I tell you I stalked the site daily. 
On November 11th 2021 after driving my poor MHHS contact crazy, she sent me an email to let me know Milton was now available. I informed my job that I would be leaving early and as soon as our son got off the school bus we headed to MHHS.
A few hours later we were headed home with the sweetest most loving dog I have ever had the pleasure being owned by. We decided not to change his name, he is 100% a Milton.
Everyone and anyone who meets him instantly falls head over heels. Milton now has his own fenced in yard, more toys than a pet store, his very own chair, 2 memory foam beds and more love than he knows what do to with.
Thank you MHHS for saving our beautiful boy!
Much love,
Milton's Family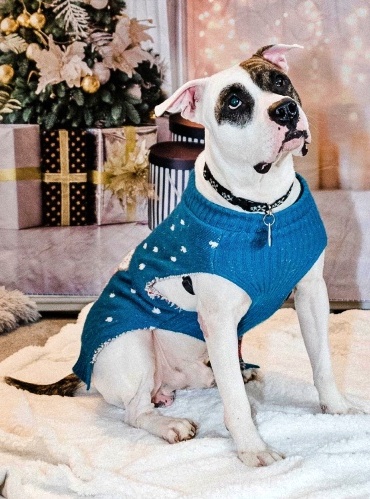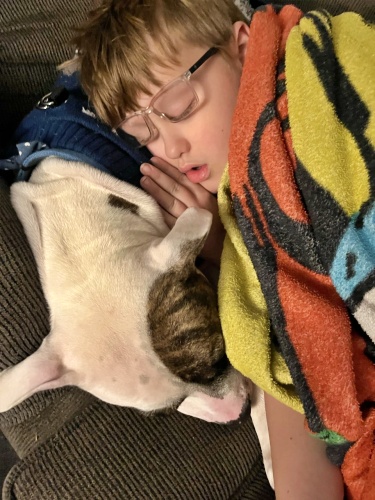 Submit your own Happy Tail story and pictures.
Date Added
November 25, 2022