Matsuko
Hello hello! Flash back to November of 2016. I was stumbling around the internet looking for a perfect fit for the Shiba Inu-shaped hole in my heart. It was then I found a little black and tan girl named Mysterie! Oh, I was in love -- I had to have her. When I got out of work and arrived at the shelter, however, I was informed she had just found her forever home. I was crushed! But it was then one of the girls let me know that her whole family was there! They just hadn't been put up for adoption yet. I asked to meet the littlest girl, a little cream puppy named Chloe. Oh, how deeply I fell. She was a handful, I gotta say, at only nine months old at the time. But I had to give her a forever home.
Renaming her Matsuko, we started teaching her how to be a real dog! She wasn't in a very nice place before the shelter and was very frail and anxious. But we bought her her first real toys, her first food bowls and her first bed, and she slowly learned how to be like the other dogs. Now she's my little princess and, at about a year and a half, she's grown up amazingly. The struggles of having a dog who didn't know life outside a crate was hard for a while, but by the way she acts now, you'd think she never had the experience! She loves dogs, people, babies, everyone! She's a bundle of love, kisses, and snuggles!
I'll spoil her forever. She's worth every moment!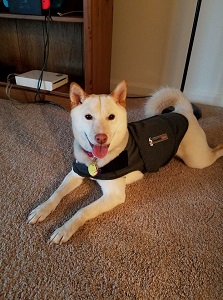 ---
Submit your own Happy Tail story and pictures.