Lucy
Hello, My husband Tim and I and our four-year-old daughter adopted Carmen from the Mohawk Humane Society last week! We are happy to report that she is acclimating to our family really well and has become such a loved member of the pack in such a short time! She already knows how to "sit" and she is starting to bond with our dog Rufus very well. The picture is of them napping on the couch together.
We have renamed her Lucy. We look forward to continuing to help her transition into our family with some great dog training and lots of love. She is such a happy lovebug and we are so glad she is ours! Her tail wags so hard that she is often banging it against the walls in our house, but doesn't seem to mind! :) We take her to her first vet visit tomorrow and look forward to lots of walks, adventures swimming in the lake, and making so many memories with her!
Love, Christina, Tim, Mabel, Rufus and Lucy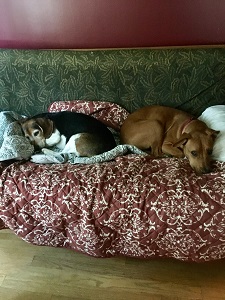 ---
Submit your own Happy Tail story and pictures.
Date Added
September 5, 2017