Leonardo
We have always had Bull Mastiffs and love the all the Mastiff breeds. My husband had been diligently checking local shelters for over a year for a Mastiff to adopt. Then one day, my husband sent me a link and it was Leonardo at MHHS.  I immediately called and scheduled an appointment to meet him.
Leonardo was very timid and insecure when we met him as well as when we brought him home.  We knew he was a good boy that was just misunderstood and needed proper training.  We enrolled him in training classes at MHHS and we could see how eager he was to be the best dog he could be. The staff could already see how much Leonardo had changed between being with us in our home and training.
We consistently provide daily exercise and mental stimulation for Leonard and it has allowed him to grow into a secure, loyal and very loving pup.  We have had Leonardo now for over a year and he is 92 pounds at 1.5 years old. He loves to go on long hikes, car rides, sitting on our laps while we watch TV and loves to snuggle. Leonardo is a sweet, loving and loyal family dog. He brings us so much joy and is always at the door with his whole body wagging along with his tail nub when we come home.
Thank you so much, MHHS!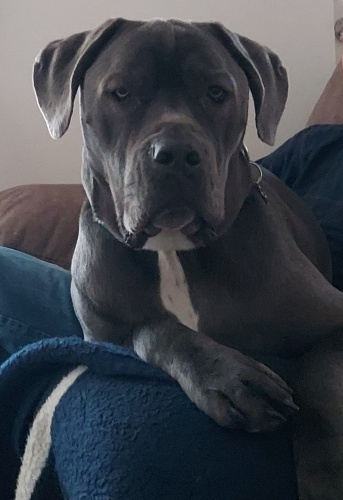 Submit your own Happy Tail story and pictures.