Iris and Angus
When we got Iris, it was love at first sight. She started off with anxiety and I told her we can relate. We both were at one time in a shelter and we both had a time that caused us anxiety and PTSD. We both don't like loud noises, especially 4th of July. Since our princess came into our family, we have our own 4th of July traditions which involve NO FIREWORKS. She does not like the cold and neither do we. As she has helped calm down my children with autism, we have helped her with her anxiety. She loves her princess clothes and her grooming days. Ever see a dog who likes movies? Well she does - preferably Frozen or princess movies. After receiving the security of love and home, she settled in quite well. She is a part of our family; she is a part of our pack. It is 4:24 am and my autistic son is rubbing her as she sleeps and covering her with her blankie.
She also accepted our next addition, Angus. Sometimes when it rains, Angus sleeps with her on her bed and she is not scared. If you are getting sick, Dr. Angus is around you all day and night. He loves being where the action is and if his sister Iris is getting love, well, Angus is not far behind. Angus loves all weather and loves to go outside with his harness and leash with Iris. Angus is very mature and if kids are doing something they should not, Angus gets your attention. Life is so much happier for all of us. Our family is made much better with our additions.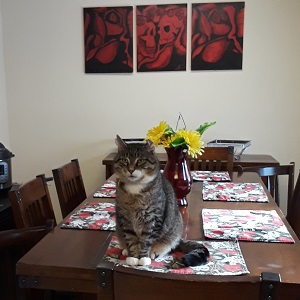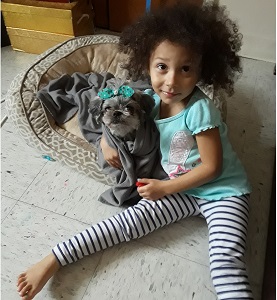 ---
Submit your own Happy Tail story and pictures.
Date Added
February 8, 2018