Holly
Hi! My mommy and daddy adopted me from the Mohawk Hudson Humane Society on 12/15/2004 because they had just lost their other little dog (which they had for 5 love-filled months).
One day my husband and I took a ride down to the shelter to just to look at the different dogs that they had (Barb had called my husband while I was at work and told him that the shelter had a little female dog, she told him to come down and to take a look see). Well when Barb walked "Helen" out to see us we fell in love with her. She is now called "Holly Mistletoe Baker", because we got her around Christmas time. She loves to snuggle with me and my husband (my young cat just loves to jump over her and to go after her curly tail, which is always wagging). Holly doesn't bark and she's a very quiet dog. Our animal family gets along so well, Holly and our big male dog Freddie are bonded (it seems).
I got my first dog from the shelter when I was 3 or 4 years old (that dog lived to the age of 17 years) and she was the best. I would rather have a dog or puppy that is from the shelter (than to go buy one from a Pet shop)!
Thank you again Mohawk Hudson Humane Society for all the good memories (of my past dogs and Bestfriends).
~ Cheryl & Bob Baker
Holly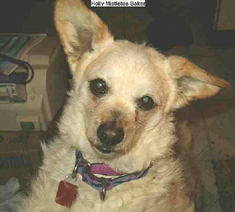 Holly with the family cat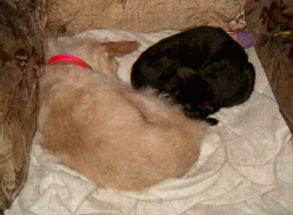 Holly with other family dog, Freddie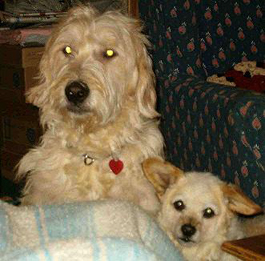 Date Added
April 30, 2006