Enrique
Adopted from your Menands shelter in June 2017, Enrique is a near-operatic vocalizer. I don't mind at all; your shelter staff member mentioned this to me before I took him home. He chirps and growls while chasing imaginary prey. He meows for food. He meows for me to get up. Sometimes I think he has made himself hoarse. He makes mad dashes, leaps to the top of tall cabinets, and is intensely curious about what lies within every cupboard, drawer and closet. He is good company for me (retired, living alone). I wish he would let me pick him up, but he does not. He loves, loves, loves being petted, however. Since he can't go read a book, I try to play with him every day (the bird with feather on a stick, the laser light, etc.). He watches the backyard wildlife through my sliding glass doors (chiefly chipmunks, small birds and squirrels, but he was transfixed to see a pair of male turkeys a week ago). He was unimpressed by a rabbit, though. A young coyote has been spotted in the neighborhood recently, but not by us, yet. Enrique is kept safe indoors always. He manages to do all of the above between naps. Did I mention he is 13?
Thanks for all the care your Menands shelter staff gave Enrique while he resided there, and thanks to the volunteer foster mom who took care of him for a couple of weeks while he recuperated from a temporary ailment.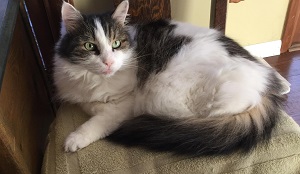 ---
Submit your own Happy Tail story and pictures.
Date Added
December 1, 2017