Edward
I was on a mission to find a brother for my beautiful, large cat named Walter. Walter has a big, bold personality, so I knew his brother would have to be able to handle him. My four criteria were: big, a boy, friendly and lived with other cats.
On one of the last days of April 2015, I woke up knowing this was the day I would find him. At first I went to the PetSmart in Glenmont to check out a cute black cat named Henry. Although he was super sweet, he also was quite small and very shy. I thought Walter may be too much for him. So I headed off to Menands. As I entered the cat area, I was drawn to a cage where you could not see the cat who was in it; he was hiding. Not deterred, I asked if I could see who was inside. Out came a big brown tiger cat named Sammy who was a boy, very friendly and snuggly, and was surrendered because of too many animals. Without much deliberation, I knew he was the one.
He could not have worked out better. He and Walter are best buddies. They get in lots of trouble and love wrestling together. He is now Edward, a/k/a Little Eddie. He is a wonderful addition to the fur-kid family!
Catherine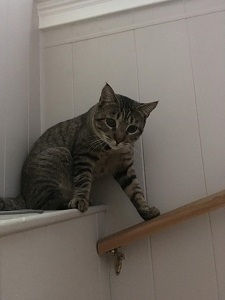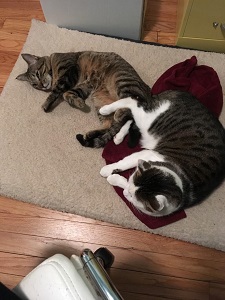 ---
Submit your own Happy Tail story and pictures.
Date Added
March 23, 2017