Duncan
We adopted Gizmo (now Duncan) in May of 2014. We had one cat already, but since we had graduated college and started full-time jobs, he was a little lonely. So we went into the community cat room, and my husband picked out a skinny, scared but cuddly orange tabby. We took him home and all he wanted to do was hide. It took only a few hours for our resident cat to coax him into exploring his new home!
Now, he lives with a dog as well. They didn't get along at first, but now Duncan tolerates the 10-month-old puppy. Duncan is what we call "aggressively affectionate" - if your hand is free, he will hunt it down for chin scratches!
We love him very much. He's been a great addition to our furry family. Thank you for all you've done for him, as well as all you continue to do.
The Minnicks (Lindsey, Andrew, Walter, Duncan and Marcy)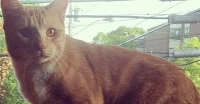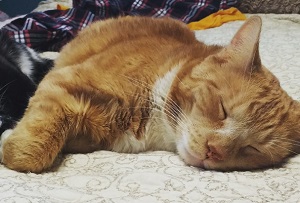 ---
Submit your own Happy Tail story and pictures.
Date Added
January 30, 2017