Dewey
This is Dewey (formerly known as Dewey Paw). He chose my boyfriend and I from the get-go, daring us to come into the room to meet him, where he promptly charmed us. Four days later we were back to pick him up and have been so happy having his company in our little home. He warmed up to the house and to us very quickly, wanting lots of attention and needing to be where my boyfriend and I were at all times, even the bathroom!
Dewey's such a sweet boy and loves to play. He even taught us that he likes playing fetch and sleeping with the TV on. He has chosen a favorite blanket to knead and snuggle with on the couch. We're so, so happy that we could give him a forever home and I can't wait to get to know his personality better as time goes on. Thank you, MHHS!
Amanda & Jancarlos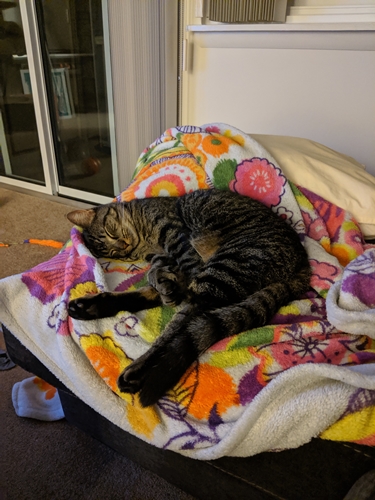 ---
Submit your own Happy Tail story and pictures.
Date Added
September 16, 2019