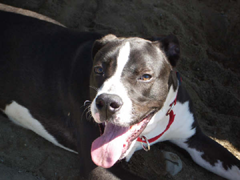 Date Added: 11/6/05
Bronson languished at the shelter for over a month with no one taking a second look. Then Kristy stopped in and it was a love match! Soon they will be headed to a new life in Las Vegas. Here is a letter from Bronson himself to an MHHS volunteer:
Hey, it's me Bronson.... I just wanted to check in and say hello! Thank you so much for letting my new mommy adopt me, I just LOVE it here! After I got to my new home, my mommy took me for a long walk at a park. I walked so nicely for her on the leash and when I saw other dogs and people she asked me to sit and I did until the other doggies and their mommies walked by. I loved it at the park, I just didn't like the car ride. I was a little scared of the car at first but when I realized it took me to great places, I decided the car was actually a good place to be..... Except for when my mommy took me to get a bath. Oh my goodness, I didn't like that one bit!!!
I must say though I do look even more handsome then you remember me now that my fur is shiny and clean. Mommy is keeping me in a crate when she goes to work. It isn't that bad though, she calls it my bed so now I know when she says let's go to bed that's where I should go. She comes home on her lunch break and takes me to play fetch. Well she tells me to bring it back but I just go past her and lay down to chew the toy until she comes to get it. Either way, its a fun time. She told me that I get to come and visit you in a few days. I'm excited to see everyone again. She also told me that I am going to meet a new doctor next month. I guess she wants to just check me out to see if I'm a happy healthy puppy. I keep telling her I am, but you know how moms are. I love her so much already and it hasn't even been a week. All I want her to do is pet me. Sometimes if she is on the computer or laying on the couch, I bark at her and hit her with my paw so she will pet me. I think this makes her sad because he voice changes with me so I've been doing it less. I still however jump all over her when she tries to go to sleep. Even though she may be tired, I still want to play and get pet. Sometimes I think my big paws hurt her and she'll make me get off the bed but if I lay next to her nicely she'll pet me until we both fall asleep.
Well I am going to go chew this new bone that my mommy gave me. I've never seen so many toys before, and all these nice people come over and bring me even more toys, it's great. I asked my mommy to send you some pictures of me. They are all from my first day at my new home. I'm sure there will be many more to follow but I wanted you to see how happy I was on my first day.
I also want to say thank you for everything that you and the other friends at the shelter did for me. You raised me to be such a wonderful dog for my mommy. She keeps telling me that I am such a good dog. I'm happy that nobody wanted to bring me home over the past few months because my mommy deserves a dog like me and more importantly, I deserve her!
Thanks again,
I miss you,
Bronson