Belle
My husband and I adopted Belle (formerly Sally) from Mohawk Hudson Humane Society in September 2016.
We were looking around quite a bit for a new dog after my childhood dog passed away, but we were struggling to find the right fit. Since we lived with family that had another dog and cats, we needed to be particular. We tried a couple of meet-and-greets and my family's dog was spooked and panicked after some not-so-great results with moderate-sized dogs. My husband kept coming back to this smaller, sad-looking dog just lying in her kennel, and suggested we give her a try. After an unconventional meeting that started with her meet-and-greet, we both fell in love with her and signed her papers that day. A few days later we brought her home.
She was shy at first but quickly came out of her shell and became the great, sassy dog she is today! I realize my mistake of initally wanting a bigger dog because she truly is the perfect size for a companion.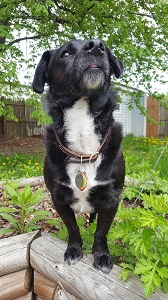 ---
Submit your own Happy Tail story and pictures.
Date Added
October 29, 2018