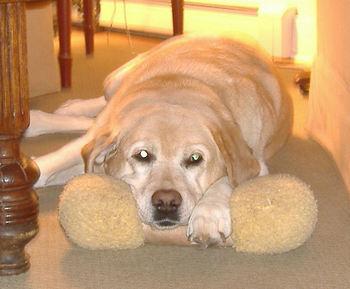 Date Added: 11/20/05
Annabelle was an 8 year old yellow lab mix brought to the shelter because she could no longer climb the stairs. She was severely overweight and had an ACL tear. Cyd suggested to Annabelle's owner that it would solve the problem if the extra weight was lost and that there were pain killers and surgeries to help the leg problem, but the owner wouldn't hear of it. He didn't even want Annabelle to go up for adoption, he wanted her euthanised on the spot. Cyd refused to do this, because Annabelle showed absolutely no aggression and her health problems were perfectly fixable so she was assessed and put up for adoption.
The first day I saw Annabelle I thought I was imagining things. I had never seen such a fat dog. She was a hulking mass in a cage, but the moment she saw me she started wriggling with joy and gave me kisses as soon as I put out my hand. For a few weeks I visited her everyday. I was looking for a dog, but my family and I were absolutely set on having a golden retriever like our last one. I couldn't bear to see Annabelle passed over and made fun of. I knew she wouldn't be adopted unless she lost some weight. She was a senior dog and the leg problem wasn't exactly a selling point either. I did what any animal lover still living under their parents' roof would do. I went home and I begged. After a little coaxing, my dad agreed that this dog needed us, after a lot of coaxing my mom agreed as well. A week later I came home from school and was greeted by a bouncing bundle of fat dog. The first few days she was home all we could do was stare in disbelief and laugh. She had commandeered a tennis ball ring that had belonged to my old dog and she carried it everywhere. We called it her donut, she was the stereotypical fat kid with the donut. Every time she ate she would carry her dish around afterward like she wanted us to fill it again. At first even short walks were difficult, her leg was always stiff and it was hard for her to breathe. She snored like a car without a muffler and if she ever decided to jump up and down I swear the house would shake. But she was just so wonderful and grateful for every little scrap of attention she got. She was 97 pounds and I was told she should be down in the 80s. She even had a little fat roll on the back of her head when she raised her ears. We cut back her food to a cup of dry and a half a can of green beans twice a day. The green beans made her feel full without all the extra calories. Little by little the walks got longer. After a couple months we realized that we were foster failures and Annabelle wasn't going anywhere. We put her on different pain killers that were much more effective and the walks kept getting longer.
She is now 81 pounds and her leg hardly bothers her at all. She can even run now and likes to drag me on our walks. Not only has her body healed, but her personality has blossomed as well. She becomes more and more comfortable everyday. She doesn't cling to her donut as much, she isn't worried about it being taken from her. She still carries her bowl everywhere, she barks every time my dad comes down the stairs. She rolls over for a belly rub every time I walk by and can be positive that she's going to get it. A little diet and a little love can go a long way, I wish her old owners had understood that, or not because without them I would have missed out on getting to have one of the best friends I could imagine.
~ An MHHS Volunteer (and like so many of us, a foster failure ;-) )