Amadeus and Oliver
Rocky and Sam here - though Mommy renamed us Amadeus and Oliver when she adopted us back in December. We just wanted to let you know that we're doing quite well. Mommy spoils us rotten and treats us like the kings we are!
Our favorite pastimes in our not-so-new-anymore home are watching Daddy's geckos in their terrarium, sneakily trying to steal some of Mommy's food, and playing with cute little plush toys that are scattered throughout the house. (Amadeus's favorite is a little fox puppet, while Oliver is partial to Peeps.) We love to make Mommy and Daddy laugh with our antics!
We're so happy that we've found our furever home!
Amadeus (black and white) and Oliver (brown and white)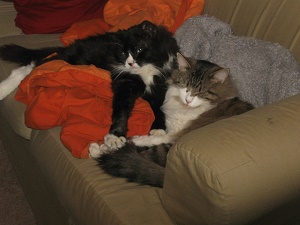 ---
Submit your own Happy Tail story and pictures.
Date Added
April 25, 2014