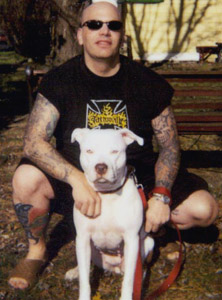 Date Added: 12/5/05
The very first day I volunteered at the shelter, I was only supposed to video tape the dogs to show at an adoption clinic, but we came home with Allie, our first foster dog. She had had a litter of puppies but was brought in as a stray. She was terrified at the shelter, and had been there over a month. An employee told me they had to provide her with a bed just to get her to lay down in her kennel run. Otherwise she just stood there shaking all day long. She had beautiful blue eyes, but lay curled up in her bed at the back of her kennel, trembling. Needless to say, not many people were looking to adopt her in that condition.
We brought her home and treated her for kennel cough and and a runny nose. We discovered she was a nut when it came to water, sticks or tennis balls. She came home with us in November, but insisted on jumping in the creek and splashing around in the water on every walk. She would gnaw on sticks we'd find in the woods, and savor them as if they were the world's biggest and most delicious rawhide bones. And if you were playing catch with her, you had to have several tennis balls on hand. Throw one tennis ball, and by the time she found it you'd better throw her another one or she'd chew the one she had to bits! Allie was so loving and grateful to be out of the shelter. She blossomed in foster care. She taught us what it is to foster, and got me hooked for life. I knew we couldn't keep her, but I loved her and wanted her to find the best possible home - where she would be loved and honored, and able to play hard the rest of her life.
A gentleman from New Jersey found her picture online and came up to meet her. He fell in love with her as well. A rescue group in NJ did a home check for me down there, just to put my mind at ease that it was a great home. It was a match!
Paul, her new dad, renamed her Kali. He has kept in touch with me over the years, sending me pictures of them periodically, along with this letter (which is on my website):
"Talk about happy endings, you couldn't get much happier than I am with the way this adoption has worked out. When I first saw Kali on the p.b.r.c. web site I fell in love with her. I had already looked at about 30 other dogs and most of them were much closer to my house (Kali was over 300 miles away). But there was something that I felt when I looked at her photo. So I called and spoke to Mara, who was so happy that I was interested, and got Kali's sad story and asked when I could pick her up. It killed me that I had to wait for her to be spayed. But she was so worth the wait. She laid with her head on my lap for the last 2 hours of our 3 1/2 hour drive. We bonded during that long trip. I adopted Kali on 12/29/03. Since that time we've had so much fun. She loves to go this little beach and wade in the ocean. I don't let her go too far because I'm afraid she will go too far. She just loves the water so much. She also loves to play fetch with her Kong balls. She is a loving and affectionate dog. I had my 11 year old niece sleep over and Kali was in heaven. She had someone else to play with. Jenna loves her so much now that she keeps asking when she can stay over again. I am just so happy to have adopted such a great dog. I wish everyone could feel the joy I feel every day when she wakes me up with kisses and I know it will be a great day for a dog who's days were numbered. Thank you Mara, Cherished Companions, MHHS, and p.b.r.c. for my best friend and little girl, Kali."
In the latest letter from Paul, he told me he is now working at the local shelter with the dogs in rescue down there. Kali sure is a great teacher when it comes to rescue. From Allie, I learned that if there is something you love to do, you should do it from the very core of your being, and never stop, not even if you're cold and wet. And I learned that fostering is a wonderful experience, and that when they leave it breaks your heart, but it is worth it because you have saved their life, and their love stays with you forever.
~ Mara (an MHHS Volunteer and foster mom)
Her "before" picture - this was the picture on Petfinder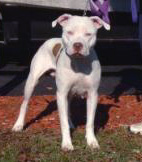 Her "after" picture with her new dad, Paul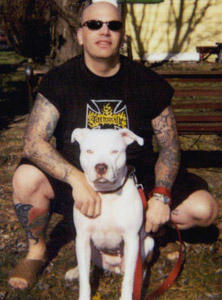 Date Added
December 5, 2005