Addie
We brought this sweet little black girl home a little over three weeks ago. When I had visited on the way back from several adoption clinics, I saw Aurora and could not get her off my mind. I returned a day later to adopt her. She is now known as Addie. She's a bundle of energy but, lucky for her, she has a huge fenced-in yard to run and "hunt" in, and lots of appropriate toys to chew on -- her favorite activity. And lucky for us, she is so sweet and funny. Besides chewing and playing, Addie's other favorite activity is watching TV on the sofa. She especially enjoys "The Dog Whisperer."
Addie cuddles up with me every night and is everything we ever wanted in a new pup. Thanks so much for bringing us together!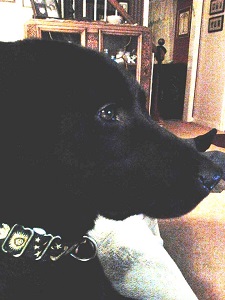 ---
Submit your own Happy Tail story and pictures.
Date Added
October 31, 2014