Abe
Poor Abe was so scared when I first saw him. I believe he had been with one owner all of his 12 years, then he was surrendered to the shelter. I remember how he crawled up to the kennel door on his stomach, looking up at me with sad brown eyes like he was begging me to get him away from the barking dogs and all the unfamiliar smells and sounds. I knew right away he was coming home with me. Abe naturally was confused and sad at first but, as time went on, he began coming out of himself. I live in a small apartment complex and he views all of the neighbors as his "people." When we're out on our frequent walks, he always has to stop and greet everyone.
Abe is excellent with my cats and all of the other pets in the complex. In fact, he's so good with cats, he actually helped successfully place a cat at a local adoption clinic. We just happened to be passing by and some people wanted to adopt a cat, but didn't want to do it if the cat wasn't "dog-friendly" (they had a dog at home). Abe was the willing volunteer. The cat took to him right away and the people were so thrilled by the response that the little cat went home with them! What a community service Abe performed for a homeless pet that day!
Abe really loves the outdoors. His favorite pastimes are rolling in the grass and tearing pine cones to shreds. He will "fight to the death" to keep his pine cones, wagging his tail all the time to let you know he really doesn't mean the fierce noises coming out of him.
I love this little guy - he is a great companion and he is fine to be left alone, as long as you leave his country music station on to keep him company. Even though Abe is an older dog, I wouldn't trade him for the world! It wasn't Abe's fault he had lived a lot of his life before he became homeless. Other than a few minor living adjustments, there were absolutely no training problems or puppy issues to deal with. I am so grateful to Deidre at the shelter for calling to tell me about him, and I think Abe is grateful too!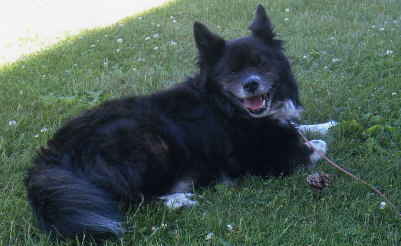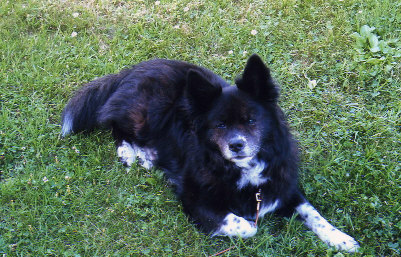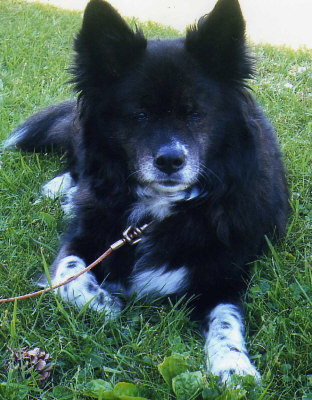 Date Added
October 25, 2008