Abby
We adopted Natalie (now named Abby) in April 2010. She is now a beloved member of our family! She was somewhat fearful of new people and situations at first, but now she is blossoming! She loves riding in the car, going for long walks in our woods, playing fetch and playing with other dogs. She loves to snuggle and cuddle on the couch with us. She is a smart girl who just "graduated" from obedience class with flying colors.
Thank you for taking care of Abby for us. She is really a great dog! In her picture, Abby is on the right, laying next to her buddy, Yogi.
Jennifer and Keith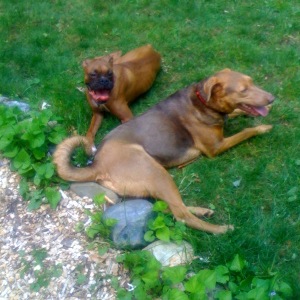 ---
Submit your own Happy Tail story and pictures.