Humane Heroes
With the expertise of Humane Education Coordinator Michaela Fisher, summer camp for kids returned to MHHS this year with some fresh, new programs! One of them is called Humane Heroes. Michaela had previously taught a hybrid camp/volunteer program at the Lake Superior Zoo in Minnesota. When she came to MHHS, she knew it would be a great fit here for middle and high school-age students.
According to Michaela, "Kids this age are ready for responsibility and want to feel that what they do matters. As part of the Humane Heroes program, they really do make a difference."
When kids sign up for the program, expectations are clear that they will be learning and helping our shelter staff in a very hands-on way. During the busy summer, the curriculum provides our animal care associates with valuable support where it's needed most.
"It's kind of like I'm their boss, but they know they'll have a lot of fun, too," said Michaela.
The program begins with an online orientation with parents that sets up rules and expectations. One of these is the need to act with professionalism, as they will be acting as extensions of our staff. After that, they attend a three-and-a-half-hour in-person orientation. This includes an in-depth, behind-the-scenes tour of the shelter where they are introduced to the entire scope of care that is provided here. They see it all – from daily cleaning and feeding – to animal care and enrichment – to veterinary procedures.
Safety is paramount, so before they can jump in to help, they take part in a session on reading dog and cat body language. This comes in handy right away, as the first task each day is tending to some of the cat areas. Here they learn about the importance of safely cleaning and sanitizing animals' living spaces, as well as observing and recording health information about them: How do they appear? Have they eaten? What's in their litter box?
Throughout the program, they are introduced to more in-depth seminar sessions on topics such as dog and cat care, animal enrichment, and understanding animal cruelty and neglect.
In the behavior assessment session, a member of our Behavior and Enrichment Team takes them through the process of a canine behavioral assessment. Then they have a chance to conduct their own assessment to see how it compares to that of our staff expert.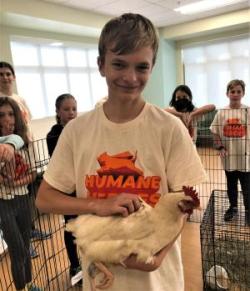 Students get to meet dogs, cats, chickens and more!
 
Days are rounded out with other essential tasks, such as meal prep for the animals, loading bowls and litter pans into the dishwasher, and helping out with the never-ending task of washing bedding and other laundry. Our donation bin always has items that need to be unloaded, organized and stored in the right spot.
It's all really interesting, but the best part for many of the participants is learning about and meeting the animals! Rabbits, ferrets, and therapy dogs are some of the guests they learn about. During a session on climate change and pets, they met Mashed Potato, a chicken. Through our partnership with the Shaker Heritage Society, they go onsite to meet some goats.
All of it contributes to helping kids become more attuned to animal sheltering and advocacy, while also nurturing responsibility and providing a sense of accomplishment. Based on the popularity of this year's session, we hope to expand next year's program.