We Can Help You Fix Your Pet!
Here at Mohawk Hudson Humane Society, education and awareness about the importance of spaying and neutering happens all year long. But since February is Spay/Neuter Awareness Month, it's the perfect time to shine little extra light on our programs. Loved for Life is a collection of services aimed at helping families take good care of their pets and keep them … wait for it … loved for life! Low-cost spay/neuter is one of those programs.
For a limited time, spay and neuter surgeries are available for as low as $10*. See details below.
Bree Seltzer is our Loved for Life Program Assistant, though this is not her first role at MHHS. Bree was an animal care supervisor for three years. In that position, she was immersed in animal care - from when they first come into the shelter to when they are adopted - and everything in between. Knowing exactly how pets move from one stage to another within the shelter, and about all of the vet care they receive, makes her the perfect person to field questions and walk pet owners through the process of getting care for their companions.
Here are some of the most common questions Bree gets every day.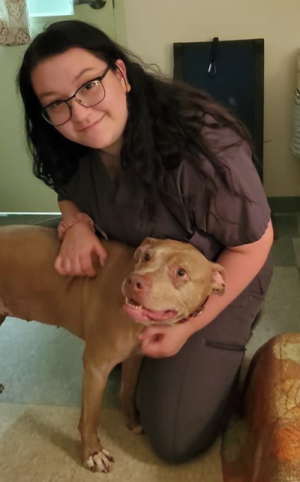 Loved for Life Program Assistant Bree Seltzer is
here to answer all your questions.
I need to spay or neuter my pet. What do I do?
Our spay/neuter services are available based on income, so the first step is to determine whether a pet owner meets the guidelines. A client who receives public assistance and can provide proof automatically qualifies for the program. We also ask for proof of income to determine the lowest pricing possible. Without proof of income, a client who receives public assistance would qualify under Tier 1, the highest pricing. There are three tiers and it never hurts to check them out, as the eligible income ranges are quite generous.
What is the experience level of your veterinary staff and the safety of the procedures?
We have extremely qualified and experienced veterinarians, technicians and support members on our team! They have worked in vet hospitals and perform literally thousands of surgeries every year. Our procedures and equipment are no different than one would find in private practice. And the fact that our vets do so many spay and neuter procedures (over 1,500 for the public in 2021) makes them particularly good at their jobs.
Are procedures painful? Are pain meds provided?
Dogs and rabbits go home with pain medication. Cats receive an injectable at time of the procedure. Pets go home the same day as surgery and typically recover very quickly. We recommend keeping activity low-key following a spay surgery (for females) as it is a more invasive procedure. For males, neuter surgery is simple and they bounce back very quickly.
What is the purpose of tattooing and microchipping?
Both are for identification, but each for a different reason. During surgery, all pets receive a small "x" tattoo to indicate they have been spayed or neutered. Should a pet ever become lost and end up in a shelter or hospital where there is a question about whether the pet is spayed/neutered, it can be verified by shaving the tummy or groin area and revealing the tattoo.
Microchipping is for identification of the owner and is a quick procedure that can be done at any time. A small device just the size of a grain of rice is injected in the scruff of the neck. The chip is programmed with owner info which can be read by a microchip reader by a shelter, animal control officer or veterinary office. It can be easily updated at any time.
How do I make an appointment?
Bree asks if the pet is up-to-date on vaccinations. If the pet is current on vaccinations, we can schedule a surgery appointment right away. If not, we schedule a first appointment for vaccinations about three to four weeks prior to surgery. Cats receive shots for distemper (also called panleukopenia) and rabies. Dogs are also vaccinated for distemper and rabies. We request current veterinary records, if available.
Many other questions come up and Bree takes as much time with each client as needed to ensure they understand and feel comfortable with the process. When they arrive for their appointment, Bree is there to check them in. It's comforting to clients to connect the voice to the face, and rewarding to Bree that she has helped another family get the care they need for their companion, and helped to prevent further overpopulation.
* For a limited time, MHHS has grant funding that will allow those who income qualify to have their dogs and cats spayed or neutered for as little as $10. Vaccinations are required before surgery and available at reduced costs.
Visit our Loved for Life page or call us at 518.434.8128 ext. 218 to learn more.