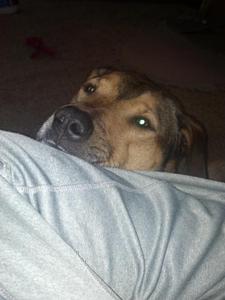 It has been over two years since we adopted Ziggy. My first trip to MHHS, Ziggy was not there; he had been adopted. Something told me around a week later that I should take another look at the shelter. Working nights, I was able to stop by on the way in to work and there he was. I immediately walked over to his cage and grabbed his paperwork. We went out for a walk and a short play session. I knew immediately that we were meant for each other. I was not worried that Ziggy had been brought back for being too energetic.
At first, fitting in was a bit tough for Ziggy. He had trouble if I had to leave him. But soon he found his family and knew he had a home. He spends time on his grandparents' 200-acre farm and just loves the land and the animals - the deer, cows, goats, his sisters and brothers (cats) and cousin (a German Shepherd). He's learned many new tricks and adjusted to farm life well. Ziggy loves tummy rubs and is more than happy to give kisses and hugs, as well as being a 65-pound lap dog. Even my father, after having his perfect cow dog, has fallen in love with Ziggy and enjoys his company.
Ziggy has become a wonderful addition to our family. He would not hesitate to protect, but at the same time has love for anyone he meets. Thank you for such a great boy!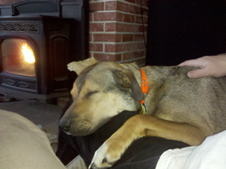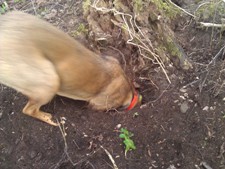 ---
Submit your own Happy Tail story and pictures to .